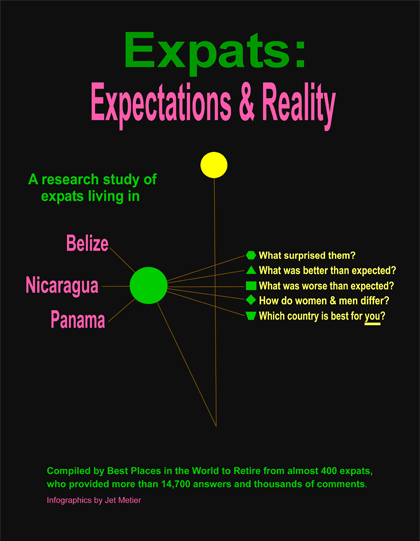 Fascinating reading! Great graphics! And FREE!
Best Places in The World to Retire has just released a great new study, EXPATS: EXPECTATIONS AND REALITY, that should be required reading of anyone even thinking of living internationally. And it's great reading for those of us already enjoying an expat lifestyle. Based on a survey of some 400 expats living in various countries and some 14,700 responses and comments in response to survey questions, the 117-page report is filled with graphics and makes easy a fascinating reading. Best of all, IT'S FREE! Of course you'll get tantalizing emails about life abroad as you probably already do from Panama Relocation Tours, International Living, Viva Tropical and all the other usual suspects. My advice, rather than interrupt your work time on line, create a new and separate "dreaming" email, and use it for all of these living abroad emails. So, when you want a mini-escape to dream and drool about the good life living in paradise, you can just go to that email account and while away a few hours dreaming. Or you can decide to stop dreaming and start planning!
Anyway it's a good study and one that I know you will find interesting and helpful.
Best part is that it is FREE! CLICK HERE FOR YOUR FREE COPY downloadable as a PDF file.