It's been a while since we've talked!
I appreciate your comments and emails and I do try to respond although not always as quickly as you or I would like.
Planting Coffee Trees & Wondering "Where's the rain?"
This is weird weather … we're into the rainy season which should mean glorious sunny mornings, followed by cloud build up, and predictable rain in the afternoon.  What do we get?  Seattle-like cloudy mornings!  OK, Ventura-summer overcast mornings.  In the afternoon we get some flash and bang and a little drizzle, but not the tropical rain we expect.  And this is the time to plant coffee trees, so we need the rain!
We've been planting, Nikki and I in the dirt, coffee trees.  600 little black bags with two year-old trees in a bag, each about a foot tall.  When we have over 4,000 trees why would we plant more?  Although coffee trees last a long, long time, after about 15 years their production declines and you need to pull out the older trees and replace them.  With a little extra care and babying, the new trees will start producing in three to four years.
My coffee guy has been convinced by the local curandera that he has a brown thumb and that whatever he plants will die … this makes a lot of sense since he works on a coffee farm! … and there either appears to be an element of truth in this, or he just doesn't like to plant.  So, like most things in Panama, we adjust … and get down on our hands and arthritic knees and plant.
This is also the time when the baby fer de lance snakes are born, and yesterday I said to Nikki, as we were on the ground in the leaves digging and planting, "Be careful of snakes!" She replied, "Listen, if I get bit just leave me here to relax and die in peace!"
I told her not to worry about dying since the local Indians haven't heard the birds singing at night recently.  When the birds sing at night someone is going to die … and it happens!
Panama Relocation Tour
One of the folks on the June tour send me this great photo of the whole group!  Nice bunch of folks!  Folks always ask, "Do you know how many people who take the tour actually end up in Panama?"  According to Jackie Lange, who runs Panama Relocation Tours, 37% of the tour participants from the past four years are actually now living in Panama.
Thank you for your comments about THE NEW ESCAPE TO PANAMA!
"Just finished your book, THE NEW ESCAPE TO PARADISE and having been meaning to write you. I have to say that what and how you laid out the details is outstanding. You covered the reality of pros and cons. It is by far the best book out there for folks that want to relocate to Panama. We will arrive in April and rent for a year or so. Thank you for all the great advice and saving us some mistakes and money! Cheers, John & Susan Pazera"

"Great book, especially helpful if you are considering moving or retiring to Panama. I loved all the insight to their experiences and can't wait to experience the country myself. Joan"

"I gave this book a 5 stars because it answers all the questions about living and retiring in Panama with the pros and cons. Gilberto Smith"

"An outstanding, insightful book about the author's experiences in Panama. It is a very sobering look at his and his family's experiences, both the good and the not so good. The reader can tell they've landed in their paradise. My wife and I are considering relocating to Panama and we're using Richards book as one of our primary sources of information for an anticipated visit to the country next year. Because Richard does not sugar coat life in Panama, rather he tells it like it is, we feel like we have a more realistic expectation of what life is like in Panama. He most definitely has us studying up on the many aspects to be considered. Daniel Bridges"

"Extremely helpful. No bunnies and rainbows here, both sides of the coin are exposed. Like any country, Panama has it's issues and beauty and Richard gives insight to the reader/expat on both so we don't arrive and end up shocked to find bugs in our paradise. Good job. Dorothy"

"Richard really knows what he's talking about. Down to earth, no sugar coating. The book lays out both the good and not so good of living in Panama. I highly recommend it. Steve Mc Vicar"
Thank you all so very much! I appreciate your comments and I REALLY appreciate it when you review the book on Amazon. The number of reviews helps push a book higher … so if you do a search on "living in Panama" or similar, the number of reviews, good or bad (!), helps push a book to the top of the list. And now that I have two grandsons to send to college … it helps!
The Big Finish & The New Start
The big finish … as usual in Panama the outgoing President pardons everyone and his brother who had anything to do with his administration.
IN HIS LAST last public act as president of Panama, Ricardo Martinelli On his last day as president, Ricardo Martinelli yesterday pardoned or gave sentence reductions to 660 people.
368 were pardoned , conditional sentences were awarded to 276 prisoners and sentences of 16 inmates were reduced..
The Government Gazette published the pardons in five digital editions, some of which were released after 8 p.m. The majority of the pardons bear the signatures of Martinelli and acting Minister of Government Alma Cortés. Minister of Government Jorge Ricardo Fábrega signed two of the decrees, including the one that granted pardons to the defendants of the 2004 case involving the flooding of Prados del Este.
The pardons include those given to political allies of Martinelli who have been accused of using state resources for political means. They include Small Business Authority Director Giselle Burillo, Secretary of State Communication Luis Eduardo Camacho, Molirena Party President Sergio González Ruiz, Molirena official Janón Gabriel and National Council for Sustainable Development Director Danna Harrick.
Also pardoned were former Municipal Engineer Jaime Salas, former presidential candidate Gerardo Barroso, former PRD presidential hopeful Honorio Vega, former Deputy Francisco "Toto" Ameglio, lawyer Sidney Sitton, and several journalists, such as Rafael Berrocal, Julio Miller, Alfonso Zamora, Carlos Zavala and Alfredo Prieto, who was also the former Secretary of State Communication under Martinelli.
Last week, Martinelli awarded 15 pardons. The beneficiaries include Tribunal Electoral President Erasmo Pinilla and former Director of Civil Aviation Eustacio Fábrega. The two publicly rejected the presidential pardons, saying they had done nothing wrong to be pardoned for. [NEWSROOM PANAMA]
And the new President Juan Carlos Varela promised … a chicken in every pot, or at least price controls on chicken, and the favorite words in Panama politics … "honesty and transparency." Hmmm.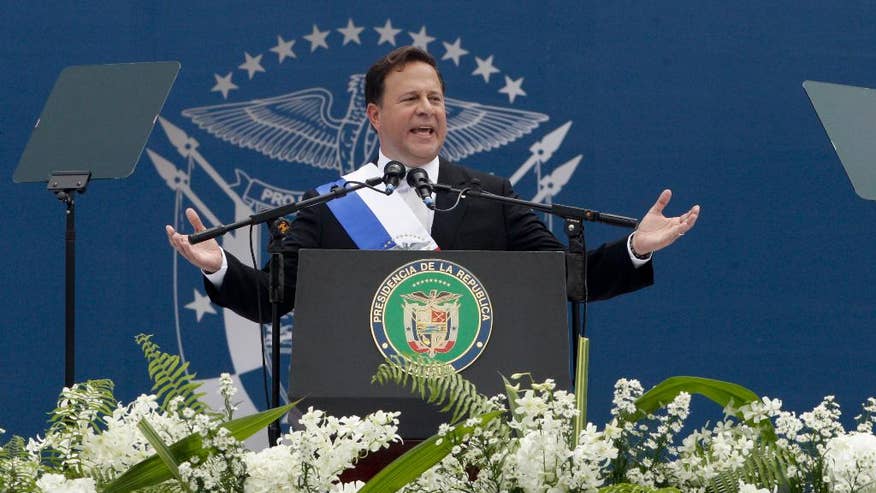 Conservative Juan Carlos Varela took office as Panama's president Tuesday pledging to finish a troublesome canal expansion, stamp out corruption and get more people out of poverty.

The 50-year-old rum maker donned the presidential sash in a massive ceremony at Rommel Fernandez stadium in the capital attended by a handful of world figures including US Secretary of State John Kerry, Spanish Prime Minister Mariano Rajoy and Taiwanese President Ma Ying-jeou.

"We've got plenty of laws. What we need are men and women who respect them; that's what I am here for," Varela said to large cheers, warning: "Corruption will not be tolerated in our government."

Varela, who was elected to a five-year mandate in May 4 polls, replaced Ricardo Martinelli, a supermarket magnate who leaves office with high popularity despite corruption allegations.

Panama's vice-president and a former Martinelli supporter, Varela was the surprise winner in a three-way race. Final results put him seven percentage points ahead of his nearest rival, Martinelli loyalist Jose Domingo Arias.

Varela has called for a national unity government to sustain economic growth, reduce inflation, combat violent crime and strengthen democracy.

Venezuela broke ties with Panama in March, when President Nicolas Maduro slammed Martinelli as a corrupt US lackey. But Varela has set dialogue with Caracas as a priority.

And just as Varela was sworn in, Venezuela announced it was restoring bilateral ties. These had been severed when Martinelli sought a meeting at the Organization of American States in Washington to discuss the death of 43 anti-government protesters in Venezuela.

Canal priority
Topping Varela's weighty agenda is finishing an expansion of the Panama Canal, a massive project which is a year behind schedule and has been mired in controversy.

The vast construction project was to have been completed this year, but delays and cost overruns have pushed back the schedule to early 2016.

"We are blessed to have the canal, a major piece of infrastructure which serves our nation, and world trade. As president, I will make sure the expansion is completed successfully, while protecting the state's interest," Varela pledged in his address.

The construction to add wider locks and channels capable of handling much larger container ships is one of the world's most ambitious civil engineering projects.

The 80-kilometer (50-mile) long canal was completed by US interests in 1914 to provide a shorter, safer route between the Atlantic and Pacific.

Work to expand it was interrupted earlier this year over a dispute about who would pay for an estimated $1.6 billion in cost overruns. It was also hit by a strike by workers demanding higher wages.

The stakes are high for the project, with five percent of the world's maritime trade already passing through the canal. The expanded waterway will be able to process 12,000 container ships in its first year of use, triple the current capacity.

'Empty coffers'
Analysts warn Varela has his work cut out. "There are empty coffers, there are pending disputes between different unions and the canal work is overdue, such that the money that was counted upon is not coming in, and this will affect how he governs," market analyst Jaime Porcell told AFP.

"Varela has to clean up the mess Martinelli left behind and keep the broken promises of other administrations" to lower the prices of basic goods, control crime and punish corruption, lawyer and political analyst Mario Rognoni told AFP.

Varela though takes office amid a huge economic boom in Panama, a small Central American nation of 3.8 million people focused economically on trade, tourism and services.

Panama saw breakneck 8.4 percent growth in 2013 but 26 percent of people live in poverty, according to the government.

Varela has said that his first act as president will be to sign an executive order to control prices of 22 products to lower inflation, his main campaign promise. Price controls are not often on a conservative's policy plan.

He also pledged drinking water for the entire country.

Varela on Monday reached an agreement with the Democratic Revolutionary Party (PRD) guaranteeing him a majority in Congress, which will make it possible for him to pass laws and nominations.

Varela's Panamenista Party holds only 13 of the 71 seats in Congress, but the agreement with PRD creates a 38-seat majority. [Associated Press]
Varela also held out an olive branch and a promise of a new life to members of Panama's estimated 200 gangs: amnesty if gang members turn in their weapons by August 1st and choose to lead a "normal life."
As Varela well knows, given the alliance he had with Martinelli as Vice President, "things change" in Panama.  Alliances can be made … and broken.