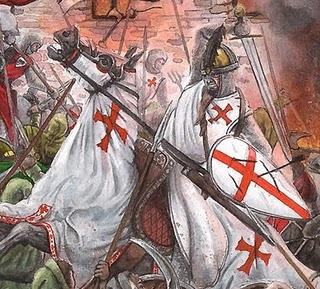 Repent, think my way or die!
"Easy" way to build or strengthen your religion . . . if you happen to have a sword in hand, or an army standing by, or the devilish instruments of torture of the Spanish Inquisition.
You either repent and think "correctly", i.e. MY way, or you die.  Then see what happens!  You get to heaven, you go to hell, or maybe . . .  ten thousand virgins.  Not an easy choice I grant you, but you DO have a choice!
But what if you didn't have any choice?
What if you were just "converted" without having any say in the matter?
What if someone of a different faith, or set of beliefs, decided that you would be a part of their particular religion when you no longer had a say, when you were dead?
Well, it turns out that is what the Mormon Church has been doing all along!  You know, the Mormons.  Who advertise on the side of buses that they are just like everyone else?  Who have the teenage kids with white shirts, ties, badges and free literature doing their required year of missionary work all around the world.  The "churches" with steeples and no crosses.  They say they are Christian although a lot of Christians might disagree.  [Many traditional Christians would call it a "cult" because although it contains elements of Christianity the theology differs in many key points to the extent that Mormons, if they claim Christianity, believe that THEY are the true Christians, and all the rest . . . but, unfortunately that is a common attitude amongst many Christian groups.]  And the Mormons are those folks who love, LOVE genealogy and try to get the data about everyone's relatives and family trees, including yours.
So now it's no longer, "Repent, think my way or die!" because no matter how many Mormon missionaries you have turned away with the phrases "Thank you, I'm not interested" . . . or "Thank you, but I'm already a Christian, Jew, Hindu, atheist or just not interested" . . . the Mormons are going to get you.  The weapon is no longer having an army standing by, or the devilish instruments of torture of the Spanish Inquisition . . . the weapon of choice is the data base . . . and since you are already dead, you have no choice!

Now frankly when I'm dead I'm dead.  You want to baptize me as a Whatever . . . whatever!  What do I care?  I know who I am and Whose I am and nothing you can do is going to make any difference to me.
But what kind of religion or cult goes around digging people's names up from the dead and baptizing them into their cult at temples around the world?  I grant you, it gives people something to do . . . but . . . really?  And there ARE people who DO care!  Maybe my kids do NOT want me to be baptized as a Mormon?  Frankly it sounds like stuffing the heavenly ballot box Chicago-style, but no religion or cult should take it upon itself to convert me or anyone else after we've made our choice and gone on to our eternal reward.
All of the PR hype – "Mormons are just like everyone else" – gets destroyed if your religion is based on this kind of foolishness and tampering with the memory and religious choices others made while they were alive.  Respect the fact that they said "No" again and again to that endless stream of cute, but naive-looking Mormon kids at the door.
The picture is Brigham Young, of BYU fame, who had 55 wives. OK, some Mormons want to be polygamous, a messy part of Mormon history which the mainstream church has tried to lay to rest. Fine by me.  Have a dozen women or men.  Sleep with whomever you wish.   That's not my business and that's not the business of the state.  Same with gay marriage.  Your choice.  If your church defines marriage as two committed people united in the sight of God . . . go for it.  If you church wants to define it as only men and women, or women and women, or men and men, or a half-dozen or several dozen people in a relationship, fine, it's a religious matter for your church to decide for you.  Not for me.  Not for anyone else.  I'll go with marriage being ordained by God.  But partnership, that legal binding union and identity, is defined by the state.  And if the state defines a partnership as two people . . . and only two people . . . so be it. And if the state defines a minimum age-of-consent, OK. That's something for which the state needs to take responsibility.
Now we're hit with this ugly truth about Mormons baptizing the dead of other faiths into their religion . . . and particularly what's hitting the headlines now is some Mormons having the audacity and nerve to baptize Jewish victims of the Holocaust into Mormonism. Of course it comes at a particularly embarrassing moment when a well-known Mormon wants to be President of the United States.  Romney apparently passes the "one wife" test, unlike I might add at least one of his conservative, Republican opponents. [And you thought Obama stepped in it with Jeremiah Wright?]
But this brings to ligh
t that we really don't know a lot about this Mormon faith and some of their secretive practices. [OK we don't know about the secret practices of the Skull & Bones gang nor the Masons either.] Apparently the Mormons have now agreed to no longer baptize Holocaust victims, or at least people who are somewhat "well known" . . . but what about us ordinary folks . . . but what about Presbyterians, and Hindus and Muslims?  If the Muslims were secretly baptizing the rest of the world into Islam holy terror would break out.
I'm a man of faith.  I'd be happy to share my faith with you.  But I respect that it is a matter of your choice.  It's not like selling eternal time shares!  I think I've made the right choice . . . for me.  Does that mean that everyone else made the wrong choice and is going to "miss out" on heaven?  I don't know.  I know what's right for me and I trust that God will sort out the details in the end.